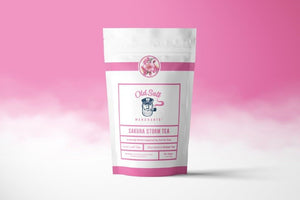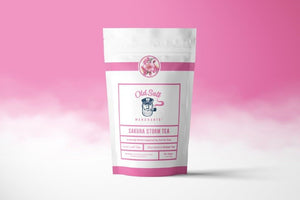 On Sale
Sakura Storm Tea (LOOSE LEAF)
A tasty and balanced green tea . 3 ounces of loose leaf in a stand-up pouch. 
Tasting Notes: Our Sakura Storm Tea (Sakura is cherry blossom in Japanese) is a fresh blend with a hint of cherry and rose giving it an exotic flavor.  The bright emerald green leaves have a spring fresh character with a smooth yet pungent body.  

Enjoy by heating water to 170 degrees,  Add a heaping teaspoon of loose leaf tea to 8 ounces of hot water.  Steep for 3-5 minutes to your desired flavor.   ** For ice tea, brew like hot tea. let the tea sit for 20-40 minutes to cool down, then put in the fridge overnight.
Sencha Green Tea, cherry, and rose
Free US shipping for all orders over $100+. Use code "ship4free" at checkout.
Sakura Storm Tea (LOOSE LEAF) Reviews