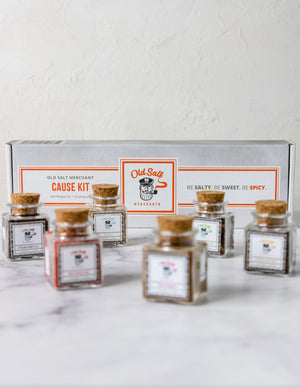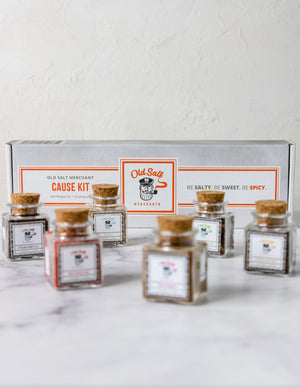 On Sale
No Kid Hungry "Cause Kit" *IN-STORE*
Old Salt Merchants teamed up with No Kid Hungry to create a "Cause Kit" so that every single child in America has the food they need to grow strong and healthy.  1 in 6 kids may face hunger today and No Kid Hungry is working to make sure they are fed, both during this pandemic and in the recovery to follow. 

Old Salt Merchants will donate $10 from this kit to No Kid Hungry to help end childhood hunger.  We curated a unique selection of spices that will transform your cooking. Not only are you purchasing an amazing product, but your purchase will  help give back to the community.  This set includes six 1.2 ounce jars includes:  
Soleil Red Clay Salt is mesmerizing in color with deep shades of red and bold in flavor. This salt has a high amount of natural minerals which is found in the red volcanic clay.   
Espresso Bean Sugar is a perfect pantry ingredient and a delicious pick-me-up. Made with Italian espresso beans and African cane sugar, the robust sugar is ideal for baking, in tea, or on the rim of a cocktail.  
Tokyo Togarashi also known as Japanese 7 spice, is a blend made with brown sugar, Ichimi Togarashi chili, sesame seeds, ginger, black sesame seeds, roasted seaweed, chili, kosher salt, and orange peel.  
Confetti Pepper Blend brings a mix of 5 peppercorns including white peppercorn, black peppercorn, whole allspice, green peppercorn, and pink peppercorn.  A versatile mix that looks like confetti in a bottle. 
Capri Blend is made with garlic, sea salt, sun-dried tomatoes, rosemary, fennel seed, lemon peel, black pepper, chili. and citric acid. This is the perfect seasoning for vegetables, salads, pork, steak, lamb, fish, and even tofu. 
Extra Bold Smoked Salt is the ultimate all-natural sea salt smoked with pecan, red oak, cherry, alder, maple, mesquite, and apricot wood.  Smoky and delicious!
Free US shipping for all orders over $100+. Use code "ship4free" at checkout.
No Kid Hungry "Cause Kit" *IN-STORE* Reviews